Ancient Egypt Timeline
The history of ancient Egypt follows millennia of pharaonic dynasties, technological development, religion and arts. The well preserved pyramids and temples, a significant number of papyrus documents and the tales of ancient historians helped the modern world understand when it all happened.
Click the timeline image to enlarge: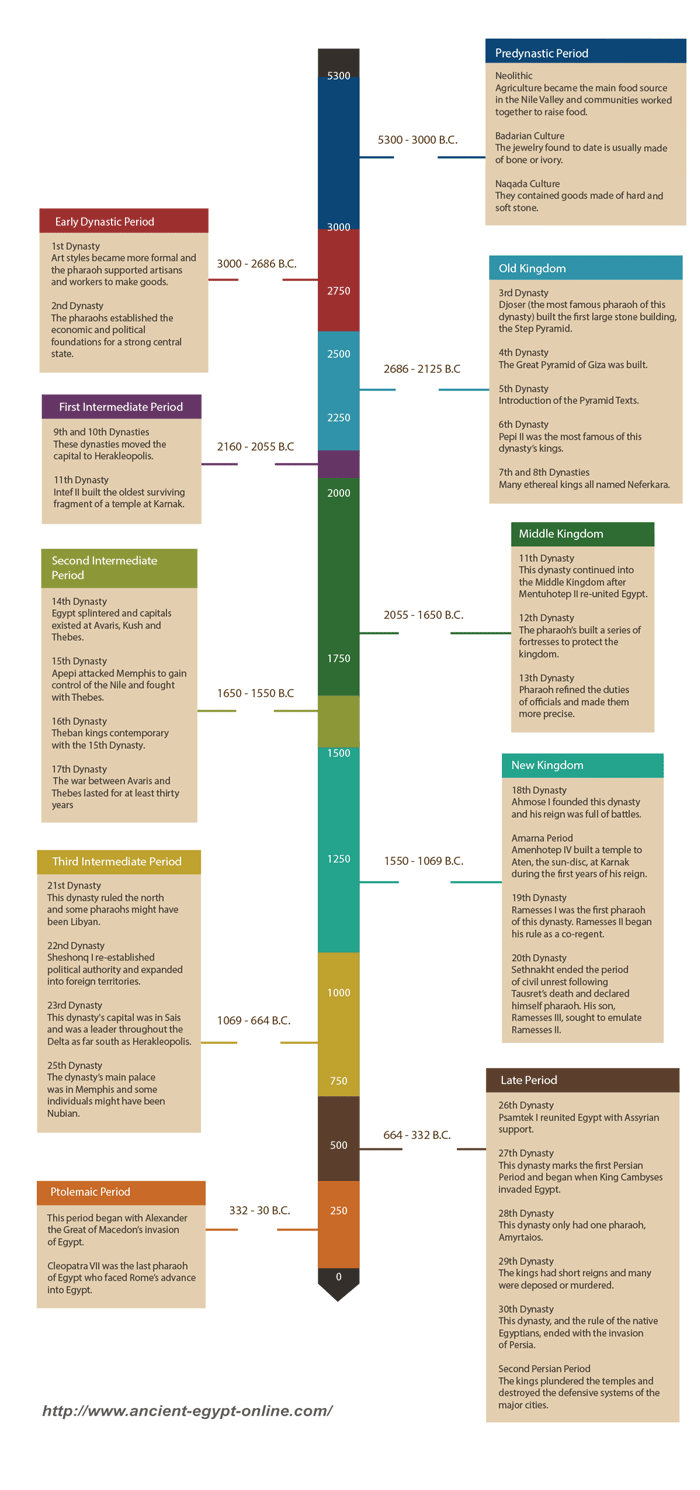 Here is a brief timeline of ancient Egypt:
Time
Period
Important Events
Pre-3100 BC
Predynastic Period

Area around the Nile settled due to overgrazing and weather changes which led to the creation of the Sahara desert.
4000 BC: Use of tomb building and burial rituals started.
3500 BC: Hieroglyphic writing developed.

3200 - 3000 BC
Protodynastic Period

Thinis, one of three states of Upper Egypt, takes over Naqada and Nekhen (other two of three states), as well as the whole of Lower Egypt.
Unified Egypt created.

2950 - 2575 BC
Early Dynastic Period
(1st - 2nd dynasties)

Capital of Egypt built in Memphis.
First king of unified Egypt believed to be Menes, Narmer, or Hor-aha.

2575 - 2150 BC
Old Kingdom
(3rd - 6th dynasties)

2600 BC: Pyramid of Djoser built, first known large-scale stone building.
Menkaure's Pyramid built, earliest use of carved granite.
Red Pyramid, first smooth-sided pyramid.
2580 BC: Great Pyramid of Giza built. Tallest structure until 1300 AD.
Art of embalming started.

2125 - 1975 BC
1st Intermediate Period
(7th - 11th dynasties)

Unification of Egypt fell apart.
Weather changes stopped the flooding of the Nile, caused many years of famine.

1975 - 1640 BC
Middle Kingdom
(12th - 13th dynasties)

2055 BC: Mentuhotep II reunited Egypt.
1878 BC: Senusret III attempts to extend Egypt, begins military campaigns to Nubia.
Under Amenemhat III's 45 year reign, the Valley of the Kings was used.

1630 - 1520 BC
2nd Intermediate Period
(14th - 17th dynasties)

Egypt once again no longer unified at the start of the 14th Dynasty (Hyksos kings rule in the North).
17th Dynasty reunites Egypt and defeats the Hyksos from Western Asia.

1539 - 1075 BC
New Kingdom
(18th - 20th dynasties)

Reign of Hatshepsut, first female pharaoh.
Reign of Akhenaten. Built a new capital called Akhetaten.
Formed new monotheistic religion based around the sun disk, Aten. Banned worship of old gods.
Reign of Horemheb, focused on re-establishing the Egypt that existed before Akhenaten.
Valley of Queens made, though some wives were still buried with their husbands.
Reign of Ramses II, ruled for 67 years and had numerous temples built, such as Abu Simbel.
1258 BC: World's earliest known peace treaty created.

1075 - 715 BC
3rd Intermediate Period
(21st - 25th dynasties)

Egypt once again split into two separate areas, Upper and Lower.

715 - 332 BC
Late Period
(26th - 31st dynasties)

525 BC: Egypt conquered by the Persians.
404 BC: Independent again.

332 BC - 395 AD
Greco-Roman Period

Alexander the Great invades Egypt; is eventually declared Pharaoh.
Alexandria built.
304 BC - 30 BC: Descendants of Ptolemy I, Alexander's general, rule Egypt while maintaining Egyptian style of rule.
229 B: Library of Alexandria founded.
146 BC: Rosetta Stone cut.
30 BC: Roman conquest of Egypt, Egypt restored to its prior wealth and prestige as a trade center.
42 AD: Library of Alexandria burns, loses 40,000 of its 70,000 books and manuscripts in the blaze.
212 AD: Egyptians given Roman Citizenship.
300 AD: Rise of Christianity in Egypt.

640 AD - Present
 

640 AD: Egypt conquered by Arab forces, becomes Islamic after 300 years of Christianity.
1799 AD: Rosetta Stone found by Napoleon's soldiers.
1822 AD: Rosetta Stone deciphered.
1870 AD: mummy caches found.
19th Century: Valley of the Kings found.
1922 AD: Tutankhamun's tomb found by Howard Carter.